New version of Athletics New Zealand Rankings Lists website launched
A new version, containing a host of improvements and additions, of the Rankings Lists website has recently been launched.
The new version is compatible with hand held smart phones and with tablet devices. The site is best viewed on the most recent versions of most web browsers and particularly with Explorer version 8 or later.
New features of the site include:
Addition of an athlete's New Zealand representation performances to the athlete's profile page.
All ranking performances achieved in the last fourteen days are highlighted in red.
Equal performances by two or more athletes are now equally ranked in all lists.
Addition of a table of abbreviations used on the site.
Best performances on the athlete's profile page have been refined to not display wind-aided performances.
We endeavour to keep the site as up to date and as accurate as possible and therefore encourage you to advise of any errors or needed corrections.
Our future plans for the next version of the site are:
Including the qualification standards for World Championships, Olympic Games, Commonwealth Games, World Junior and World Youth Championships in the appropriate year into the corresponding event ranking lists.
Making the All-time lists a "live list"
Adding a graphical representation of athlete progression to athlete's profile pages.
Performances from National Championships now listed on Rankings Lists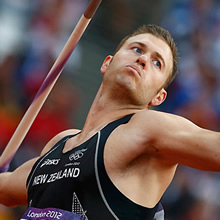 Over 600 performances from the National Track and Field Championships have been added to the respective rankings lists. These performances have now pushed the total number of performances on the rankings lists past 40,000 by the 2064 New Zealand athletes who have performances listed on this site.
There are an additional 21 athletes who had performances from the National Championships eligible for ranking, but I have been unable to locate their Athletics New Zealand Registration/Membership details. I will endeavour to try and track these down so that their performances can be added to the lists.
A new, more comprehensive and detailed Rankings Lists site, with many more features is being developed and it is envisaged that this will be launched within the next month. It will be compatible with hand-held and portable devices.